Cher(e) Abonné(e),

Le jeudi 13 juillet 2017, nous vous proposons 4 New(s) qui peu(ven)t vous intéresser:

Maths-Fi vous souhaite une excellente journée et vous propose aujourd'hui une édition spéciale Finance Quantitative & Business:
Réseau Maths, Finance & Big Data sur LinkedIn : merci à nos 25.000 abonnés ! Cliquez ici pour les rejoindre.
---
#Les indispensables : à télécharger !
Livre Blanc MATLAB® : Gestion des risques financiers – Améliorez votre gouvernance d'entreprise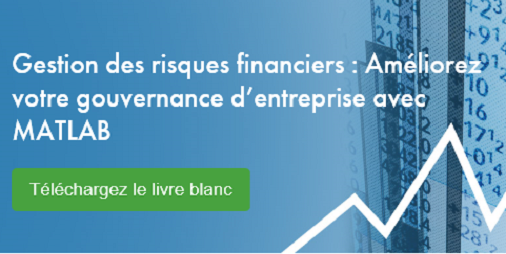 Un juste équilibre entre gestion des risques et conformité réglementaire peut permettre à votre entreprise d'obtenir un avantage concurrentiel durable. Avec MATLAB® vous pouvez modéliser l'ensemble des risques financiers, effectuer des exercices de stress testing et optimiser vos processus décisionnels.

Dans ce livre blanc, vous découvrirez comment maîtriser vos risques financiers et faire de la gestion des risques un levier de création de valeur.
Vous apprendrez notamment comment :
Connaître les principaux défis liés aux risques financiers auxquels font face les institutions bancaires, les compagnies d'assurances et les sociétés de gestion d'actifs
Maîtriser les exigences réglementaires de plus en plus complexes, y compris IFRS 9, Bâle III et Solvabilité II
Appliquer efficacement des méthodes quantitatives aux problématiques concernant le risque de crédit et le risque opérationnel avec MATLAB®
Career @ BNP Paribas Hong Kong: Quantitative Researcher (London)

mercredi 9 août 2017

BNP Paribas has a presence in nearly 80 countries with over 180,000 employees. It ranks highly in its three core activities: Retail Banking, Investment Solutions and Corporate & Investment Banking. We strive to employ talented and innovative people who are aligned to our vision and culture.

Career @ BNP Paribas Hong Kong (London or Hong Kong) : Quantitative Researcher

About the role

The quantitative researcher is a front office role in charge of developing, building and testing models to meet the needs of the credit markets activity. We have a strong research agenda on innovation to enable structuring to deliver coupon enhancement through choice collateral and risk transformation. Work is integrated to BNP global markets platforms and official risk and valuation systems.
We are seeking an applicant who is proficient in financial mathematics (including stochastic calculus) and software development (C++) who will report directly to the global head of credit modeling.

If you are interested in a role in quantitative research:

Click here to send your cv and motivation letter to Mr Sebastien Hitier with the reference maths-fi.com in the subject line.
Career @ CFM: Researcher in Quantitative Finance (Paris)

jeudi 13 juillet 2017

Capital Fund Management (CFM) is a successful alternative investment manager and a pioneer in the field of quantitative trading applied to capital markets across the globe. The company is regulated by the AMF, the SEC and the CFTC, with assets under management of $7.5 billion.

CFM is currently looking for a: Researcher in Quantitative Finance in Paris

Ideal Candidate:

PhD in experimental or theoretical science (life science, mathematics, physics, statistics etc.)
Post PhD experience (academic or private sector research), 5+ years experience would be appreciated,
Programming skills in Python, C++ or R,

Founded in 1991, CFM is currently one of the world's leaders in alternative investment management. We invite you to join an extremely dynamic and motivating company in a pleasant space in the heart of Paris.
Our compensation package is very attractive, offering a substantial bonus (that can range from 50% - 150%+ of fixed salary, depending on global and individual performance).
[Fed News] Beige Book - Semiannual Monetary Policy Report to the Congress - July 12, 2017

jeudi 13 juillet 2017

Beige Book

This report was prepared at the Federal Reserve Bank of Kansas City based on information collected on or before June 30, 2017.
Read more

Semiannual Monetary Policy Report to the Congress

Chair Janet L. Yellen, before the Committee on Financial Services, U.S. House of Representatives, Washington, D.C.
Read more

Source: federalreserve.gov
[Nytimes] R.B.S. to Pay $5.5 Billion to Settle Toxic Mortgage Claims in U.S.

jeudi 13 juillet 2017

[...] The Royal Bank of Scotland said on Wednesday that it had agreed to pay $5.5 billion to American authorities to resolve claims related to its underwriting and sale of toxic mortgage securities.[...]

Read more
By Chad Bray
Source: nytimes.com

Bientôt de nouvelles offres ! New @ MOODYS Investors Service : Quant, Financial Engineer & Software Engineer - London - Frankfurt

Concours terminé ! Cadre de direction @ Banque de France- Inscrivez-vous dès maintenant aux épreuves de sélection

!
Etc.
Retrouver l'intégralité de nos offres d'emploi ou de stages France et International
---